Welcome to NetVizor!
---
Congratulations on choosing NetVizor! Spytech NetVizor is our award winning network monitoring software that allows you to monitor EVERYTHING users do on your network - in total stealth. NetVizor provides essential monitoring features, as well as website and application content filtering, lockdown scheduling, and remote administration capabilities. NetVizor's advanced, yet easy to use feature-set is unmatched, and provides the ultimate all-in-one network monitoring software package. NetVizor is a powerful computer monitoring solution that allows you to easily:
View a visual overview of all computers on your network with a single click
View what users are doing in realtime on your network
Log a user's keystrokes
See what programs they run - and for how long
See what websites they frequent - and for how long
See screenshots of their activities
View internet connections a user makes
View documents they open and print
View file system creations/deletions
View internet traffic data from online activities
View emails sent and received
Read chat transcripts
Generate easy to read and use reports
and much more!
Using the NetVizor Documentation
Simply click a topic in the panel to the left to display all relevant information
about that topic. All topics are explained in detail and are all accurate and up-to-date.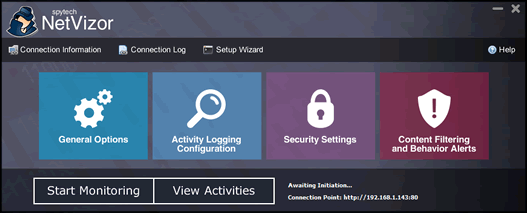 NetVizor Requirements
Windows NT, 2000, XP, Vista, 7, 8, or 10, all Server Editions. 32 and 64-bit supported.
Pentium Class PC (133mhz or higher)
3MB Hard disk space
Windows TCP/IP Network