Welcome to Keystroke Spy!
---
Congratulations for choosing Keystroke Spy! Keystroke Spy is an invisible keystroke logging tool that allows you to:
Log a user's keystrokes
See who users are talking to
See emails that are typed
Log passwords
Log and backup typed documents
Send email alerts when certain words are typed
Send email logs of keystrokes recorded
and much more!
Keystroke Spy can be configured to run in total stealth so that the user has no idea their keystrokes are being recorded.
Using the Keystroke Spy Documentation
Simply click a topic in the panel to the left to display all relevant information
about that topic. All topics are explained in detail and are all accurate and up-to-date.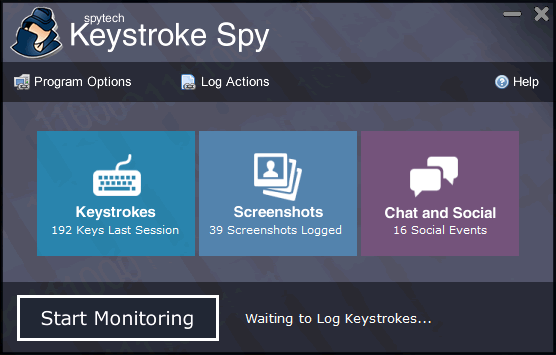 Keystroke Spy Requirements
Supported Platforms: Windows NT/2000/XP/Vista/7/8/10
Suggested PC Specs: Pentium Class PC (133mhz or higher) with 32MB RAM
Memory: At least 2MB