Silently monitor all internet usage and detect unwanted online behavior.
Website Usage & Browsing
Record all website visits, organized by website domain and page, including incognito activity.
Web Screen Recording
Capture visual screenshots of all user web browsing and internet activity.
Social, Webmail & Chats
Track website visits across all social platforms, webmail, and chat messaging sites.
Detailed Usage Tracking
Record not only websites visited, but when they were visited, and how long each individual page was used.
Instant Web Behavior Alerts
Receive alerts instantly via email, text/sms, or the cloud when unwanted website visits occur.
Graphical Usage Overviews
Generate charts showing the most visited sites and pages, active times, popular searches, and more.
Invisible Stealth Mode
Our monitoring software runs invisibly in the background without users knowing, while using minimal resources.
Password Protected
Password protected so only you can control monitoring and view recorded activities.
Incognito Activity Logging
Track and record all website and search activity regardless if browser incognito or private modes are used.
Remote Viewing via Cloud
View all internet usage logged via our secure cloud dashboard. Recorded activities are encrypted during transmission for complete security.
Cloud-based Internet Usage Monitoring, Access Control, and Content Filtering Software for All Platforms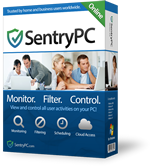 SentryPC
SentryPC is a cloud-based monitoring solution that enables you to control, restrict and monitor access and usage of your PC, Mac, Android, or Chromebook from anywhere. You can control how long and when users are allowed to use the computer, prevent the use of specific programs, block access to certain websites, restrict access to system functions and more.

In addition to access control, SentryPC can also record all activities, including keystrokes, website visits, applications ran, chats, screenshots, and more. All logged activities are viewable in real-time from anywhere via your online cloud account.


| | | | | | |
| --- | --- | --- | --- | --- | --- |
| Cloud-based Monitoring | Remotely Installable | Time Management | Content Filtering | Keystroke Logging | Screenshot Capturing |
| Application Usage | Website Visits & Searches | Social & Email Activity | File Usage | Stealth Operation | Graphical Reports |
Our #1 Windows Internet Usage Monitoring Software for 23+ Years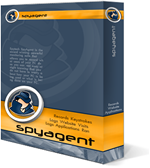 SpyAgent
The number one solution for computer monitoring and screen recording needs, SpyAgent logs all keystrokes typed, application usage, windows used, websites visited, internet connections, emails sent and received, chat conversations, file usage, mic audio, webcam captures, and screenshots. SpyAgent can send activity reports to you via email or store them in the cloud, and it also can filter websites and applications from being viewed on your PC!

SpyAgent can run in total stealth and has a the most robust feature-set available on the market - all accessible from an easy to use interface.



| | | | | | |
| --- | --- | --- | --- | --- | --- |
| Keystroke Logging | Application Usage | Website Visits & Searches | Screenshot Capturing | Social Network Activity | Email & Chat Activity |
| File Usage & Transfers | Computer Usage | Stealth Operation | Email Log Delivery | Graphical Reports | Real-time Alerts |