Spytech NetVizor
Centralized Network Computer Monitoring Software
NetVizor is network and employee monitoring software that invisibly monitors your entire network from one central location! Track workstations and users that may use multiple PC's on your network. Deploy NetVizor from one location and record everything employees do, including screenshots, keystrokes typed, program and internet usage, emails and chats, file/document usage, and much more. Generate detailed activity reports in seconds, view your entire network in real-time, and receive instant behavior alerts when unwanted activities occur. Combining real-time remote surveillance with complete computer activity monitoring, behavior filtering, alerting, reporting, and security auditing, NetVizor is the most comprehensive network monitoring and administration solution available anywhere!

for Windows 11, 10, 8, 7, Vista, XP, NT, and 200x
Record Everything.
NetVizor has an unmatched activity recording feature-set that invisibly records everything employees and users do on your network. Keystrokes, chats and emails, website and online search activity, program usage, file usage, uploads and downloads, mouse clicks, software installations, and internet traffic represent just a handful of NetVizor's activity recording capabilities. Visual evidence of all network behavior is recorded by NetVizor's built-in screen capturing and playback.
| | |
| --- | --- |
| •Records Keystrokes Typed | •Records Windows Opened |
| •Records Website Visits and Searches | •Records Email Activity |
| •Records Application Usage | •Records All Internet Traffic Data |
| •Records Internet Connections Made | •Records File Uploads and Downloads |
| •Records Files and Documents Used | •Records User Total Active/Idle Times |
| •Records Chat Conversations | •Records Software Installation |
Monitor and Control in Real-time.
NetVizor offers real-time monitoring capabilities that allow you to not only record everything that is happening on your network, but to also see what is happening as it happens. The real-time network overview lets you view every desktop on your network with a single click and remote desktop controls allow you to take control of your computers with ease.
Report and Analyze.
NetVizor's detailed activity logs can be quickly processed for easy viewing in the form of graphical Top 10 activity reports, trend analysis summaries, and detailed activity breakdowns. Reports can be generated for individual users, or for your entire network, and can be automatically generated on a daily basis and emailed to you for off-site analysis. See what users are the most active and what activities are the most common with just a few clicks. Quickly Find Out...
•What websites are visited the most and what web searches are users performing regularly?
•Are employees being productive? How active are they really?
•What programs are being used the most? Are they actually being used?
•What files are being used? Are users leaking them by copying them to portable drives or emailing?
•What employees are chatting when they should be working?
Filter, React, Protect.
NetVizor offers customizable behavior filtering that allows you to block specific programs, websites, chat clients, portable drives, and file copying. When specific behaviors occur, such as a file being modified, a keyword being typed, a portable drive being used, or a program being executed, NetVizor can alert you in real-time so you can react accordingly and protect your network and secure your data.
Manage from a Centralized Location.
NetVizor manages and controls your network computers from a central location on your network. All of NetVizor's activity logs and real-time monitoring capabilities can be accessed and managed from a centralized control point. Client installations and and removals can be handled remotely to avoid visiting each network computer one-by-one.
NetVizor Records Everything Users Do.
NetVizor is powered by 15+ computer monitoring tools that record everything employees and users do on your computers, and network. From keystrokes typed and website visits, to email activity and file uploads, NetVizor gives you an accurate picture of what is happening on your network, and provides visual evidence via screenshot capturing. Choose between two monitoring modes (proactive and reactive) to either have logs always available for viewing, or to have them locally encrypted and viewable only after they are unlocked.
Keystrokes Typed
See every keystroke users type, from passwords and searches, to emails and chats.
Application Usage
See what programs users are working on, and if they are actually using them.
Website Usage & Searches
Log all visits and online searches, and see how long each page was visited.
Visual Screenshots
Track every user action with visual screenshots that can be presented in a slideshow.
Email Activity
Record all incoming and outgoing POP3/SMTP email, including attachments.
Chat Conversations
Record chat sessions on AIM, ICQ, Yahoo Messenger, and more.
File System Activity
Track all file creations, copies, renames, deletions, and modifications.
File Transfers
See what files users are uploading and downloading on your computers.
Computer Usage Sessions
See how active users actually are, and how inactive/idle they are.
Events Timeline
A chronological timeline of everything that has happened on your computer.
Internet Activity
Record all internet connections established and opened by network users.
Internet Traffic Data
Sniff and record every packet of data users send and receive on your network.
Windows Opened
See what windows users are interacting with, and when.
Software Installs
Record software installations that users may perform.
Print Jobs
Track print jobs and see what documents are being printed.
Watch and Control Network Computers in Real-time.
NetVizor not only records everything users do, but also allows you to remotely connect to user workstations and view what they are doing in real-time. Innovative activity tickers, tiled visual overviews, and web-based remote administration capabilities allow you to see what is happening at any time, and give you the ability take control of any computer on your network should the need arise.
•See what everyone is working on with the Real-time Activity Ticker
•See every computer desktop with a single click with the Visual Network Overview
•Watch Keystrokes in Real-time as they are being typed
•View Computer Usage in Real-time while users work
•Takeover network computers with Remote Desktop Control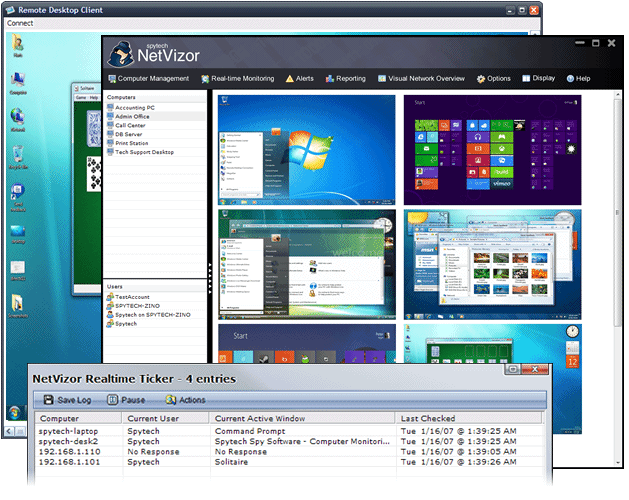 Block and Prevent Unwanted Behavior with Filtering and Alerts.
NetVizor can act as a proactive network security solution, blocking unauthorized and undesired activities on your network, while alerting you in real-time when they transpire. NetVizor logs everything that a user has done, creating a chain of evidence of any unauthorized behavior.
| | |
| --- | --- |
| •Instantly sends Real-time Behavior Alerts | •Alerts when Portable Drives are Used |
| •Blocks Undesired Website Usage | •Alerts when Undesired Programs are Used |
| •Blocks Undesired Programs and Games | •Alerts when Undesired Websites are Visited |
| •Blocks Chat Messenger Usage | •Alerts when Files are Used/Modified |
| •Blocks Portable Drives and File Copying | •Alerts when Keystroke Phrases are Typed |
| •Prevent Print Screen Usage | •Alerts when Computers are Relocated |
Create Graphical Reports for Easy Behavior Tracking.
NetVizor's 15+ powerful activity recording tools log everything users do, creating large amounts of behavior data for viewing, and making efficient reporting tools a necessity. NetVizor can generate reports for individual network users, specific computers, or for every computer and user on the network in just a few clicks. Top 10 reports, detailed activity breakdowns, trend analysis, and email based report deliveries allow you to quickly see what is happening on your network.
Two-week Trend Analysis Reports
Network-wide Overview Reports
Daily Activity Reports via Email
Top 10 Inactive/Idle Users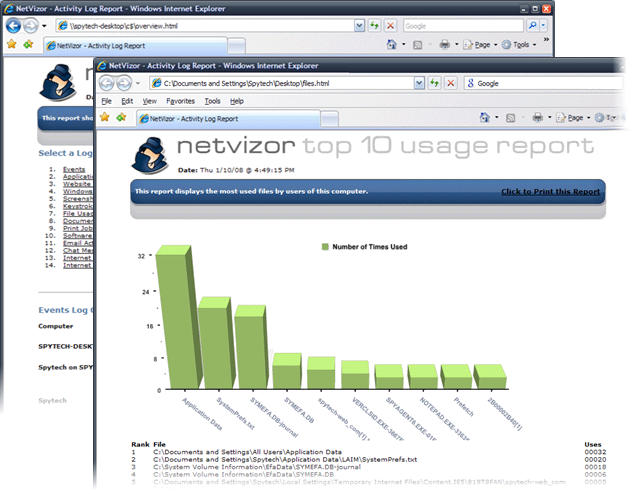 Manage Your Network from a Central Location.
NetVizor is designed to operate on networks of all shapes and sizes - from small single-subnet networks to large 10,000+ computer networks consisting of multiple subnets and divisions. NetVizor is powered by an intuitive graphical user interface that allows you to centrally deploy the NetVizor software to workstations, record activities on your network, monitor in real-time, and generate reports all from one location with just a few clicks.
•Easy point-and-click computer management and viewing
•Perform Stealth Remote Installations
•Connect to, view, and control computers via your Web-browser
•View logs and reports from one location
•See a tiled visual overview of every desktop on your network with a single click
•Push settings and filters out to network computers
•Centrally manage website and application filters
•View real-time behavior alerts and respond immediately by taking over the remote machine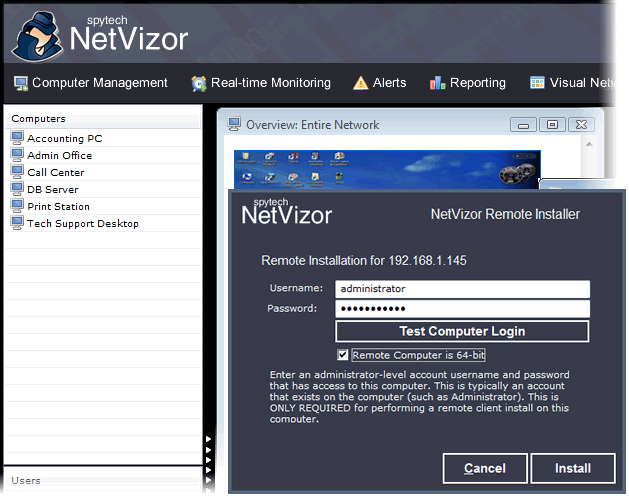 Why Should You Choose NetVizor?
NetVizor is an award-winning, market-proven solution used by customers around the world to increase employee productivity, determine why work is not being done, prevent undesired computer usage, stop and prove theft and asset leakage, and put their minds at ease knowing their employees are staying on task and out of trouble.
Increase Productivity.
Stop idle and wasteful behavior by keeping your employees in line by monitoring everything they do - or do not do, and holding them accountable. NetVizor will virtually eliminate idle and undesired behavior.
Stop Unwanted Behavior.
Adhere employees and users to network and company policies and stop inappropriate web-browsing, improper application usage, chatting, gaming, social networking usage, and more.
Protect your Network and Prevent Theft.
Log all documents usage and files transfers while preventing the use of portable drives on your network to protect intellectual property and confidential data. Protect physical assets by receiving real-time alerts when computers are relocated. Block users' abilities to copy files and use the keyboard print screen function.
Investigate and Document Improper/Illegal Activity.
NetVizor can be deployed invisibly, allowing you to log a suspect employee's potentially harmful and unwanted behaviors and provide proof of any wrongdoing.
Put Your Mind at Ease.
NetVizor's ability to stop unacceptable computer usage, prevent data theft, investigate suspect employees, protect your network, increase productivity, and deliver reports via email will allow you to rest easier knowing that you have a tight reign on what is happening on your network, 24/7, even if you are off-site away from your network.