Spytech PopupAgent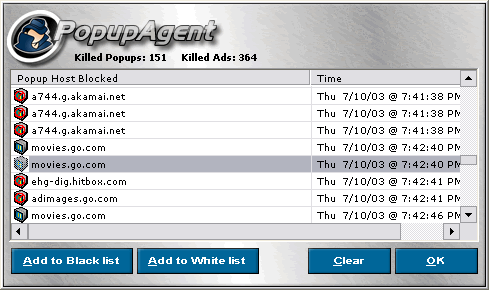 Stops and Blocks Popups, Ads, and Cookies

PopupAgent is the latest in intelligent popup blocking software from Spytech Software! PopupAgent kills and stops ad popups from annoying you and wasting your browsing time on the web. PopupAgent features sophisticated popup blocking technology combined with privacy protection tools to save you time and bandwidth while browsing the web. PopupAgent's powerful popup blocking technology stops the popups and ads before they are ever sent to you!
PopupAgent's Key Features
Stops Annoying Popups
Blocks Common Ad Images
Blocks Messenger Service Popups
Stops Media Player Ads
Prevents Unwanted Cookies

Saves Internet Bandwidth
Built-In Cookie Manager
Internet Tracks Clearing
Website Filtering
Speeds up Browsing!



Popup Blocking



Privacy Protection



Cookie Management

"Love your product. Wanted you to know that I tried 6 different software packages for my home PC and yours is absolutely the best. I have already recommended it to 3 other people who were looking for such a product. The interface is amazingly easy and intuitive, the data which is captured far exceeded my expectations and is extremely easy to retrieve."

User Testimonials

Why Spytech?

PopupAgent