Welcome to SpyAnywhere!



1. Getting Started



2. Installation



3. Uninstall



4. Monitoring



5. Viewing Logs



6. Remote Management



7. Remote Monitoring



8. Remote Control



9. SpyAgent Integration



10. General Commands



11. Stealth Mode



12. General Settings



13. Using Custom Ports



14. IP Email Delivery



15. Security Restrictions



16. Events Log



17. Common Questions



18. Licensing and Pricing



19. Troubleshooting


Welcome to SpyAnywhere!
---
Congratulations on choosing SpyAnywhere! Spytech SpyAnywhere is our award winning, powerful remote spy software that allows you to remotely monitor what users do on your PC - in total stealth. SpyAnywhere allows you to remotely monitor and control PC's via your web-browser once the SpyAnywhere software has been installed on the remote PC.

SpyAnywhere allows you to view system activity and user actions (in realtime!), shutdown/restart, lockdown/freeze, and even browse the file system of your remote PC! SpyAnywhere is a powerful remote computer monitoring solution that allows you to easily:
View keystrokes being typed in realtime
See what programs the user is running, and then close them if required
See what windows the user has open, and then close them if required
See screenshots of the user's desktop in realtime
View internet connections a user has open
View recent documents the user has opened
View the remote computer's file system
View SpyAgent activity logs in realtime
Remotely lock the computer down or reboot it
and much more!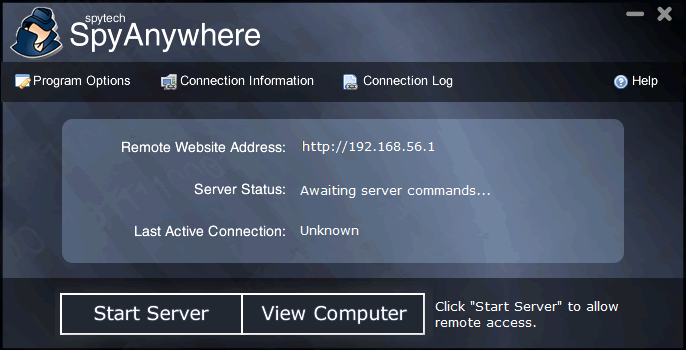 Using the SpyAnywhere Documentation
Simply click a topic in the panel to the left to display all relevant information
about that topic. All topics are explained in detail and are all accurate and up-to-date.

SpyAnywhere Requirements
Supported Platforms: Windows NT/2000/XP/Vista/7/8/10
Suggested PC Specs: Pentium Class PC (133mhz or higher) with 32MB RAM
Memory: At least 2MB