Do you suspect that your network users are abusing computers, stealing or leaking proprietary network assets, or just wasting time? You are not alone...
56.5% of employees feel that surfing the Net or sending non-work-related E-mails decreases productivity, and 31% of employers said that they restrict employee Internet/E-mail usage. (Vault.com survey)


75% of companies cited employees as a likely source of hacking attacks. (CSI/FBI, 2003)


$4.5 billion losses per Fortune 500 company - Confidential surveys indicate data theft losses are staggering, and as much as 80% of losses are due to insiders. (Computer Security Institute, 2001)


31.2% of employees feel it is appropriate to surf non-work-related sites up to 30 minutes a day, 14.8% said up to one hour is appropriate, and 9% said over an hour, while only 26.6% of employers feel it is appropriate for employees to surf non-work-related sites up to 30 minutes, 8.6% said up to one hour, and 4.2% said over an hour. (Vault.com survey)

Our network monitoring software can quickly detect and give you the evidence you need to prove that your users are abusing network resources and work time. Our network monitoring tools, such as
NetVizor
, can operate in total stealth so that you will not have to worry about your users discovering you are monitoring them - and even if you inform them they will still not be able to tell how. Logs can even be stored in an encrypted format, so they can only be viewed with our software. Our network monitoring software will log and record what your user type, who they talk to, documents they open, transfer, and print, what websites they visit, software titles they run, emails they send and receive, and even screenshots of their actual online activities. Our network monitoring software also features built in content filtering tools to restrict your users from visiting inappropriate websites, running restricted software, copying files to portable drives, or chatting online. Email alerts can be sent when a user attempts to abuse any of the restricted settings our software enforces. All logs can be viewed remotely from a central location as well - no need to physically visit each worker's computer. Keep your network protected and save money otherwise wasted by inefficient and potentially malicious network users.
Centralized Network Monitoring, Administration, Asset Protection, and Content Filtering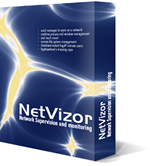 NetVizor
NetVizor is the latest in network monitoring software. Monitor your entire network from one centralized location! NetVizor allows you to track workstations and individual users that may use multiple PC's on a network. NetVizor records everything users do - from keystrokes typed to email activity. NetVizor can show you what everyone is doing on your network, in real-time, with a single mouse click via its visual network overview and real-time activity ticker.

Combining real-time remote surveillance with complete individual user monitoring, report creation, and security auditing, NetVizor is the most comprehensive network monitoring solution available!


| | | | | | |
| --- | --- | --- | --- | --- | --- |
| Centralized Network Monitoring | Network Deployment | Behavior Alerts | Content Filtering | Keystroke Logging | Screenshot Capturing |
| Application Usage | Website Visits & Searches | Social & Email Activity | File Usage | Stealth Operation | Graphical Reports |
Cloud-based Access Control and Computer Monitoring Software for Parents and Employers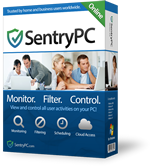 SentryPC
SentryPC is a cloud-based monitoring solution that enables you to control, restrict and monitor access and usage of your PC from anywhere. You can control how long and when users are allowed to use the computer, prevent the use of specific programs, block access to certain websites, restrict access to Windows functions and more.

In addition to access control, SentryPC can also record all activities, including keystrokes, website visits, applications ran, chats, and more. All logged activities are viewable in real-time from anywhere via your online cloud account.


| | | | | | |
| --- | --- | --- | --- | --- | --- |
| Cloud-based Monitoring | Remotely Installable | Time Management | Content Filtering | Keystroke Logging | Screenshot Capturing |
| Application Usage | Website Visits & Searches | Social & Email Activity | File Usage | Stealth Operation | Graphical Reports |