Spytech SecurityWorks 2005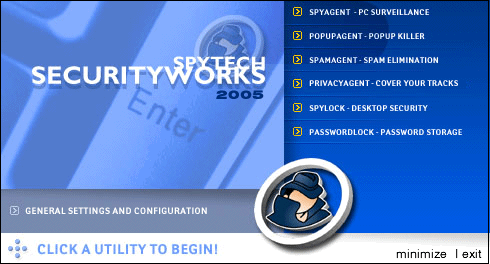 Our Most Popular Utilities at an amazing Low Price!

Spytech SecurityWorks 2005 is a collection of some of Spytech's popular, award-winning utilities bundled together in a high-value, low-priced package. Monitor your PC, Stop Spam and Popups, Secure your PC and passwords - SecurityWorks can do it all! Save over $80.00 with SecurityWorks!
SecurityWorks Key Features
SpyAgent PC Spy Software
PopupAgent Popup Blocker
SpamAgent Spam Killer

PrivacyAgent History Cleaning
SpyLock Desktop Security
PasswordLock Password Storage

"Love your product. Wanted you to know that I tried 6 different software packages for my home PC and yours is absolutely the best. I have already recommended it to 3 other people who were looking for such a product. The interface is amazingly easy and intuitive, the data which is captured far exceeded my expectations and is extremely easy to retrieve."

User Testimonials

Why Spytech?