Report Generation
---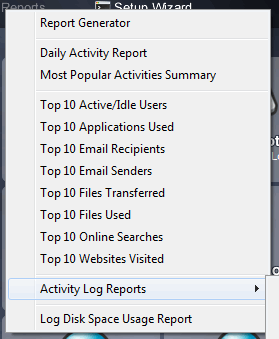 Located in SpyAgent's Reports menu, SpyAgent features a large set of reporting tools that allow you to save and prepare log data for later viewing, documentation, and printing. All reports are formatted in HTML format for viewing with your web-browser.
Complete Log Summary
This report will show the start/stop time of the last monitoring session, system information, log summaries, system event summaries, and log disk space usage.
Report Generator
This feature allows you to create a sleek detailed, sorted, and categorized report with all the specific log data reports you want to see. All reports are linked together via a table-of-contents.
Individual Log Reports
Select any individual log report to view an easy-to-follow report that lists all captured data relating to the selected log you chose.
Daily Activity Report
This report will show you everything users did on a specific day, in chronological order.
Top 10 Reports
These reports allow you to view a ranked listing of the most actively used applications and websites used by users of your computer.
Disk Space Usage Report
This report will show you how much disk space each log SpyAgent creates is consuming, as well as the total amount of space being used.